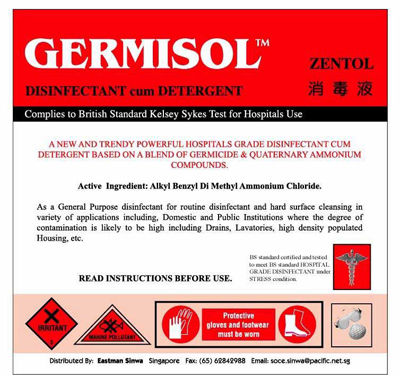 *with permission from EASTMAN SINWA (Fax: 65 62842988)
Kelsey-Sykes Test (Hospital Grade disinfectant) Certification.
The certification is not an endorsement or promotion of GERMISOL / product by the Test Centre.
Germisol ™
– Hospital Grade Disinfectant.
Very often we see label such as 'KILL 99.9%' yet we wonder why we don't see these brands among those use in our Doctor clinic or in the Hospital.
There are a thousand and one germs which can be killed with just simple soap and plain water. But there a handful will just do not go away easily with unqualified germicides.
We also supply Heavy Industry Grade COAL TAR Disinfectant.
BLACK Disinfectant Fluid - WHITE Disinfectant Fluid
Hospital Grade disinfectant GERMISOL.
Hand Sanitizer.
Talk to us, we do contract manufacturing and House branding.